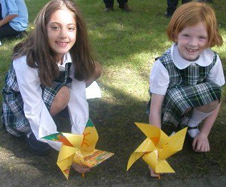 The Education Department advocates for additional funding sources to supplement Catholic schools across the state, as well as school choice options – such as voucher programs – when viable opportunities exist. It also works to maintain a smooth and cooperative relationship between the Illinois State Board of Education and Catholic schools to ensure an effective state recognition program for nonpublic schools.
The department supports the creation of an individual/corporate tax credit scholarship program. The program would allow individuals or corporations to receive a tax credit for contributions made to a scholarship program for income-eligible students in kindergarten through 12th grade.
The CCI Education Department also works to restore funding to the Textbook Block Grant. Created in 1975 as a loan program and redesigned by CCI in 2011 to function as a block grant, the program has provided secular textbooks, learning materials and instructional computer software to public and nonpublic school students in grades K-12.
The Conference also supports funding for the Educational Improvement and School Safety Block Grant. This grant helps schools pay for local, state and federal health and safety mandates such as fingerprint-based criminal history checks, automated external defibrillators and school crisis plans.
We also support the Parent/Guardian Transportation Reimbursement Program, which reimburses parents or guardians of K-12 students who are not provided with free bussing to school. Eligible students must live either 1 ½ miles or more from the school attended or within 1 ½ miles of the school but encounter a verified safety hazard.
Zach Wichmann serves as the CCI staff member for the Education Department.
Representatives from each diocese make up the Education Department.

Fr. John Belmonte, S.J., Superintendent – Joliet
Brandi Borries, Superintendent – Springfield-in-Illinois
Mike Kagan, Superintendent – Rockford
Thomas Posnanski, Superintendent – Belleville
Dr. Jim Rigg, Superintendent – Chicago
Dr. Sharon Weiss, Superintendent – Peoria
Dr. Jim Rigg serves as the current chair of the Education Department.