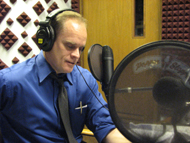 CCI Executive Director Robert Gilligan hosts the Catholic Conference Radio Hour on the third Monday of the month on Relevant Radio. Gilligan discusses current public policy issues affecting the Church with experts and newsmakers.
Robert Dunham, executive director of the Death Penalty Information Center, joins Bob to talk about Gov. Rauner's call to reinstate the death penalty for mass murderers and those convicted of killing a police officer. Next, Greg Schleppenbach, assistant director of pro-life activities at the U.S. Conference of Catholic Bishops (USCCB), discusses the Trump administration's proposed rule change that drops a requirement that Title X funding recipients must provide abortion counseling to patients. This is expected to put a crimp in Planned Parenthood's business. Then, Hillary Byrnes, assistant general counsel at the USCCB, talks about the current U.S. Supreme Court case concerning a California law that requires crisis pregnancy centers to post notices that women can get information on free or low-cost abortions from the state. A ruling is expected before the end of June. Finally, Lou Slapshak, a lay Catholic in the Belleville diocese, talks about his involvement with Our Brothers' Keepers, an organization dedicated to helping former inmates re-enter society.
Sister Jean, chaplain to the Loyola Ramblers men's basketball team, joins Bob to talk about her recent celebrity status attained when the team reached the Sweet Sixteen and the Final Four. Next, Bishop Joseph Perry, auxiliary bishop for the Archdiocese of Chicago, discusses recent progress in the canonization cause for Fr. Augustus Tolton, the first African-American priest in America. Then, Don Carlson, executive director of Illinois People's Action, explains Senate Bill 2843, which would cap current exorbitant car title loan interest rates at 36 percent. Finally, Jennifer Collins, director of the Life and Family Evangelization Office for the Rockford diocese, talks about the diocese's first Millennial Conference to be held this week.
The March 20 primary elections in Illinois kick off this month's show, as John Shaw, director of the Paul Simon Public Policy Institute at Southern Illinois University, joins Bob to talk about various races across the state. Then, Fr. David Kelly of Precious Blood Ministry of Reconciliation in Chicago talks about the restorative justice hubs his ministry has created across the city. Next, Anthony Holter of Empower Illinois, the scholarship-granting organization serving most of the Catholic schools in the state for the new Tax Credit Scholarship program, discusses the successful relaunch of the application process that saw more than 44,000 submissions. Finally, Jason Welch, the boys' basketball coach at Bloomington Central Catholic High School, joins Bob to talk about the recent post-game, on-court group prayer with players from Chicago Orr in the Class 2A semifinal tournament action. Photos and videos of the show of faith have gone viral.
State Sen. Jason Barickman, R-Bloomington, discusses Senate Bill 2236, which seeks to undo the new Tax Credit Scholarship program by tying it to the annual budget process. Then, Kris Cortes, a resident of Flossmoor, talks about her community's efforts in dealing with a new Planned Parenthood clinic. Next, Father Corey Brost and Viatorian Brother Michael Gosch talk about the Viatorian House of Hospitality in Des Plaines they co-founded to provide a home to young men who fled their home countries, seeking asylum in the United States. Finally, former Daily Herald political reporter/editor Kerry Lester talks about her new book, "No, My Place," which examines sexual harassment faced by women in Illinois government and politics.