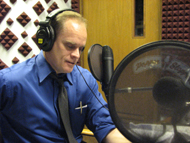 CCI Executive Director Robert Gilligan hosts the Catholic Conference Radio Hour on the third Monday of the month on Relevant Radio. Gilligan discusses current public policy issues affecting the Church with experts and newsmakers.
Bishop David J. Malloy of the Diocese of Rockford joins Bob to talk about his new role since November as chairman of the USCCB Committee on International Justice and Peace. Then, Nicole Stelle Garnett, a law professor at the University of Notre Dame Law School, talks about Espinoza v. Montana Department of Revenue, a case regarding tax credits for scholarships that was argued before the U.S. Supreme Court last month. A decision is expected this summer. Finally, Anthony Holter, executive director of Empower Illinois, the scholarship-granting organization in charge of awarding Tax Credit Scholarships to most of the Catholic schools across Illinois, talks about successes of the second year of the program.
Jill Rauh of USCCB's Dept. of Justice, Peace and Human Development talks about the organization's election year initiative, "Civilize It: Dignity Beyond the Debate". Next, state Rep. La Shawn Ford, D-Chicago, talks about House Bill 182, which would limit the use of solitary confinement in state prisons and give inmates placed in solitary confinement access to educational programs. Then, Marshan Allen, who works with Chicago-based Restore Justice Illinois on criminal justice reforms, talks about House Bill 1615, which would limit the state's current felony-murder charge. Finally, Shana Crews, Illinois government relations director for the American Cancer Society's Action Network, discusses the current state of vaping and flavored tobacco in Illinois.
Claire Culwell, keynote speaker for the March for Life Chicago set for Jan. 11, joins Bob to talk about her experience of meeting her birth mother in 2009, who told her she survived the surgical abortion that took the life of her twin brother. Next, Meghan Goodwin of USCCB and Leila Nimatallah of Catholic Relief Services talk about the Global Child Thrive Act currently before Congress. Then, Deacon Alfred Coleman, director of the Archdiocese of Chicago's Zacchaeus House, talks about the ministry that offers a safe place for single, homeless men looking for a fresh start. Finally, Christopher Orlet, editor of The Messenger, the newspaper for the Belleville diocese, talks about his and his wife's emotional journey in adopting a baby girl — an experience he recently wrote about in a touching column.
Dr. Richard Mantoan, a dentist who owns his own practice in Flossmoor, discusses the complaint he filed against the Reproductive Health Act with the U.S. Department of Health and Human Services Office for Civil Rights. Mantoan, who is being represented by The Thomas More Society, does not want to provide health insurance that includes abortion to his employees, which is required by the RHA. Next, Jackie Ingram and Janice Oda Gray, parishioners at St. Agatha's parish on Chicago's west side, talk about their efforts to bring mental health services to the community in the form of the recently-opened Encompassing Center. Residents of four west side neighborhoods voted to increase their property taxes to fund the new center. Then, Kayla Jacobs, director of programs for the new Laudato Si' Ministries of the Joliet diocese, talks about what prompted the creation of the new ministry. Finally, Bonnie Engstrom, a resident of the Peoria diocese, wrote "61 Minutes to a Miracle" to document the experience of her newborn son surviving over an hour without a heartbeat or breathing. Bonnie, family and friends prayed to Archbishop Fulton Sheen for her son's healing, and he is now a normal 9-year-old. The miracle of his healing was approved by the Vatican this summer, and Sheen is expected to be beatified soon.