Funding and School Choice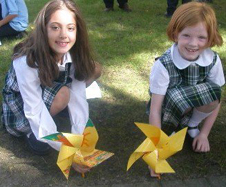 The Education Department advocates for additional funding sources to supplement Catholic schools across the state, as well as school choice options when viable opportunities exist. It also works to maintain a smooth and cooperative relationship between the Illinois State Board of Education and Catholic schools to ensure an effective state recognition program for nonpublic schools.
The department successfully lobbied for the creation of a Scholarship Tax Credit program that gives low-income and working-class children the opportunity to attend a Catholic or other private school of their choice. Funding for scholarships is generated through corporate and individual donations to scholarship-granting organizations. Donors then receive a 75 percent state income tax credit for their contributions.
The CCI Education Department also works to restore funding to the Textbook Block Grant. Created in 1975 as a loan program and redesigned by CCI in 2011 to function as a block grant, the program has provided secular textbooks, learning materials and instructional computer software to public and nonpublic school students in grades K-12.
The Conference also supports funding for the Educational Improvement and School Safety Block Grant. This grant helps schools pay for local, state and federal health and safety mandates such as fingerprint-based criminal history checks, automated external defibrillators and school crisis plans.
We also support the Parent/Guardian Transportation Reimbursement Program, which reimburses parents or guardians of K-12 students who are not provided with free bussing to school. Eligible students must live either 1 ½ miles or more from the school attended or within 1 ½ miles of the school but encounter a verified safety hazard.
Representatives from each diocese make up the Education Department.
Jonathan Birdsong, Director – Belleville
Brandi Borries, Superintendent – Springfield-in-Illinois
Vito DeFrisco, Superintendent – Rockford
James Quaid, PhD, Interim Superintendent – Joliet
Greg Richmond, Superintendent – Chicago
Dr. Jerry Sanderson, Interim Superintendent – Peoria