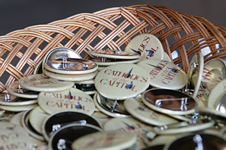 As tax-exempt organizations, parishes and Catholic Church organizations are prohibited from participating in partisan political activities. However, there are some activities in which you can participate.
The Catholic Conference of Illinois has published a brochure, "Guidelines on Political Activities for Parishes and Catholic Church Organizations," which sets out some general guidelines to follow if you wish to participate in these activities. Read the brochure in Spanish and Polish.
If you need further information, visit this page on the United States Conference of Catholic Bishops (USCCB) website.