Bishop Paprocki of Springfield tonight celebrated a Red Mass for those working in public service, drawing Gov. Bruce Rauner, House Speaker Michael Madigan, several Illinois Supreme Court justices and state lawmakers.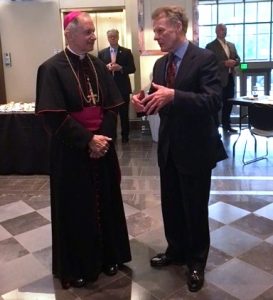 The bishop annually celebrates the Mass honoring legal professionals and public officials at the Cathedral of the Immaculate Conception. The tradition is traced back to the 13th century, when the Mass would officially open the term of the court for most European countries. Celebrants wear red vestments, signifying the fire of the Holy Spirit's guidance for those who pursue justice.
During his homily, Bishop Paprocki cautioned attendees against becoming hard-hearted and cynical in a line of work that is fraught with politics. The state is currently suffering under a budget impasse approaching two years, and has a backlog of unpaid bills reaching past $14 billion. He encouraged the congregation to trust in a higher authority.
"Are you faced with judging a difficult case, have a contentious policy decision to make, lack clarity in regards to an upcoming vote?" he asked. "Pray and ask the Holy Spirit for peace and guidance."
Attendees at the Mass crossed political lines and included Republican Gov. Bruce Rauner; House Speaker Michael Madigan, D-Chicago, and his wife Shirley; and Illinois Supreme Court Chief Justice Lloyd Karmeier and justices Anne Burke, Rita Garman, Thomas Kilbride, Mary Jane Theis and Robert Thomas.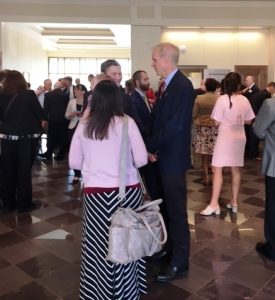 Lawmakers spotted included state Reps. Peter Breen, R-Lombard; Linda Chapa LaVia, D-Aurora; Tom Demmer, R-Rochelle; La Shawn Ford, D-Chicago; Mary Flowers, D-Chicago; and Tom Morrison, R-Palatine; as well as state Sens. Michael Connelly, R-Naperville; Dan McConchie, R-Lake Zurich; Sue Rezin, R-Peru; Tom Rooney, R-Palatine; and Paul Schrimpf, R-Murphysboro.
A cocktail hour followed the Mass, which was then followed by dinner and a presentation by Karmeier, who led the audience in restating vows to uphold the law with integrity.
Photos: Above left, Speaker Michael Madigan, D-Chicago, talks with Bishop Paprocki after dinner. At left, Gov. Bruce Rauner (right) talks with state Rep. Peter Breen, R-Lombard, and his wife Margie after Mass.