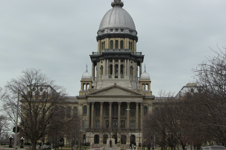 The Catholic Conference of Illinois scored legislative victories regarding education, social services, social justice, and family issues during a spring session overshadowed by the specter of the upcoming Nov. 4 election.
State lawmakers limped to their scheduled May 31 adjournment, steering clear of any significant legislation in the face of impending statewide and legislative elections.
Legislators approved pension reform for Chicago laborers and municipal workers, but failed to take action on attention-grabbing statewide issues such as increasing the minimum wage to $10 an hour, approving for voter's consideration a constitutional amendment to change the state's income tax from a flat rate to a graduated rate, extending the income tax increase set to expire Jan. 1, and overhauling the state's education funding formula.
The $35.7 billion operating budget approved for the fiscal year running from July 1 to June 30, 2015, is essentially flat because lawmakers refused to act on extending the income tax increase passed in 2011. However, most observers expect the legislature to take up the income tax after the November election, since the approved budget will fall short of spending needs and payment of overdue bills in the second half of the fiscal year.
However, CCI successfully pushed its agenda.
Education
Catholic schools will now be able to apply for school security grants from the Illinois Emergency Management Agency under Senate Bill 2934. Nonpublic schools also are now required to annually review their school's crisis plans under Senate Bill 2710, and all secondary schools must now teach students how to administer cardiopulmonary resuscitation (CPR) and to use an automated external defibrillator under House Bill 3724. However, a measure calling for all schools to create and implement an anti-bullying policy under House Bill 5707 does not apply to Catholic schools since CCI successfully amended the bill to exempt religious schools. Each diocese has its own anti-bullying initiatives.
Social Services, Social Justice
Lawmakers approved restoring coverage of dental and podiatry services in the state's Medicaid program, as well as lifting a limit on prescriptions for drugs treating mental illness under Senate Bill 741. Survivors of human trafficking will benefit from recovery services funded by a portion of the fines collected from individuals convicted of participating in human trafficking with Senate Bill 3558. An innovative approach to arming county jail inmates with marketable skills was approved in House Bill 4113. The voluntary initiative calls for local inmates to fix up abandoned homes, which can then be used as transitional housing for mentally ill or homeless individuals.
Respect Life

CCI successfully amended House Bill 4501 so that the legislation allowing "unaccompanied" minors to seek medical care would not circumvent the state's law calling for parents or guardians to be notified when a girl younger than 18 seeks an abortion.
Marriage
Likewise, CCI raised religious freedom concerns regarding House Bill 5569, which calls for a ban on "conversion therapy." The measure was defeated in the House.
November Election
Voters in the Nov. 4 general election will have a plethora of ballot questions to consider. Lawmakers approved amendments to the state constitution to strengthen crime victims' rights, as well as ban any voter suppression initiatives. Two other state constitutional amendments – one placing term limits on lawmakers and the other calling for an independent method for drawing the state's legislative and congressional maps – were initiatives of petition drives, but were withdrawn from the ballot by a Cook County judge.
Legislators also approved three nonbinding, advisory referenda, asking voters if the state's minimum wage should be increased from $8.25 an hour to $10 an hour; if a 3 percent surcharge should be placed on millionaires, with the extra funding going to education; and if any insurance plan offering prescription drug coverage should offer birth control. State law and the federal Affordable Care Act already require coverage of birth control.