Catholic Conference of Illinois Executive Director Robert Gilligan today spoke at a statehouse press conference, urging support for legislation that extends the deadline of a state health insurance program for children set to expire July 1.
The Covering All Kids Health Insurance Act — commonly known as All Kids — was approved by lawmakers in 2006, with a sunset date of July 1, 2016. The program provides health insurance to approximately 41,000 children of low- to middle-income families not covered by Medicaid or the Children's Health Insurance Program (CHIP). House Bill 5736 extends the deadline of the program to Oct. 1, 2019.
"The Catholic Conference 10 years ago supported the legislation that authorizes All Kids, and we are here today to re-affirm that commitment," Gilligan said, adding later, "Our support of the All Kids legislation stems from Catholic Social Teaching, which strives to uphold the common good."
Families eligible for All Kids must have an income from 210 percent through 318 percent of the federal poverty level. Parents must pay monthly premiums of $40 for one child, and $80 for two or more children. Co-pays for doctor visits and prescriptions are also required. The program is also open to undocumented children residing in Illinois.
Click here for a video of Gilligan's full remarks at today's press conference.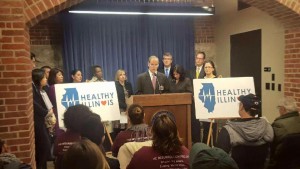 Of the 40,975 children enrolled in All Kids as of Jan. 1, 40,221 of them are eligible for Medicaid, so the state is partially reimbursed for their cost. As part of the Affordable Care Act, the federal Medicaid reimbursement for this program was increased to 88.62 percent from the usual 50 percent, as of Oct. 1, 2105. That extra reimbursement will expire on Sept. 30, 2019. Also, according to the requirements of the Affordable Care Act, a state must maintain its coverage of children that was in effect as of December 2009, or it risks losing all Medicaid reimbursement.
Also appearing at today's press conference were Illinois Department of Healthcare and Family Services Director Felicia Norwood; A.J. Wilhelmi, president and chief executive officer of the Illinois Health and Hospital Association; Charles L. Lucore, chief executive officer of St. John's Hospital in Springfield; Rebecca Shi, executive director of the Illinois Business Immigration Council; and state Reps. Lisa Hernandez, D-Cicero; Cynthia Soto, D-Chicago; and Robyn Gabel, D-Evanston.