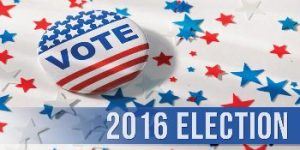 The general election on November 8 offers Illinois residents the opportunity to vote for candidates for U.S. president, Congress, and the state legislature.
The Catholic Church is nonpartisan, and does not endorse candidates nor tell parishioners which candidates they should elect. The Church does offer guidance for discernment as parishioners make their decisions on how to vote with a properly formed conscience.
The U.S. Conference of Catholic Bishops (USCCB) has updated its document, Forming Consciences for Faithful Citizenship, which may be found here. Archbishop Kurtz of Louisville, president of the USCCB, offers some important thoughts about this challenging presidential election in this short video.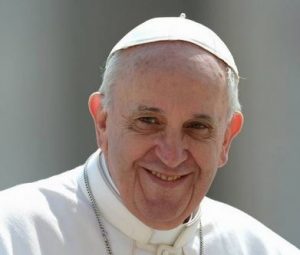 Additionally, during an Oct. 2 press conference on the papal plane on the return flight to Rome after a weekend visit to Georgia and Azerbaijan, Pope Francis was asked about the upcoming U.S. presidential election. A journalist asked what advice the pope would give to U.S. Catholics unhappy with both the Democratic and Republican candidates for president — Hillary Clinton and Donald Trump.
Pope Francis replied as follows:
"I never say a word about electoral campaigns. The people are sovereign. I will only say: Study the proposals well, pray, and choose in conscience."
The Catholic Conference of Illinois encourages you to carefully review the seven themes of Catholic Social Teaching listed below as you consider candidates. Read them here in this election bulletin insert. Español. Polskie.
Seven Key Themes of Catholic Social Teaching*

Life and Dignity of the Human Person
Human life is sacred, and the dignity of the human person is the foundation of a moral vision for society and of Catholic social teaching. Abortion, physician-assisted suicide, cloning, embryonic stem cell research and racism are evils to be guarded against and opposed. Our promotion of human dignity and life also moves us to work for an end to war and the death penalty.
Care for God's Creation
We are called to protect the planet, living in relationship with all of God's creation. Pope Francis underscores the importance of our stewardship of the Earth in his encyclical Laudato Si': On Care for Our Common Home. In it, he poses a key question: "What kind of world do we want to leave to those who come after us, to children who are now growing up?"
Protection of & Participation in the Family & the Community
Social and economic policies affect our ability to grow in community. Marriage and the family are the central social institutions that must be supported. Pope Francis stresses the significance of the family in Amoris Laetitia (The Joy of Love), observing that marriage and the family are the central social institutions that must be supported by the state.
Rights of the Person Protected, & Each Person's Responsibilities Met
Human dignity can be protected and a healthy community can be achieved only if human rights are protected and responsibilities are met. Every person has a fundamental right to life and to those things required for human decency, including food, water, shelter, employment and health care. As citizens, we all have duties to one another, our families and society.
Care for the Poor and Vulnerable
While the common good embraces all, those in greatest need deserve our preferential concerns. A moral test for society is how we treat the weakest among us, including children, the disabled, refugees, the elderly, the unemployed, the poor and the marginalized.
Dignity of Work and the Rights of Workers
The economy must serve people, not the other way around. Work is a form of continuing participation in God's creation. Workers must have basic rights to decent work, fair wages, workplace safety, collective bargaining, private property and economic initiative.
Solidarity
We are one human family whatever our national, racial, ethnic, economic, and ideological differences. We are our brothers and sisters keepers. We work to create unity through dialogue and a civil discourse that is respectful of others.
*Adapted from: www.usccb.org/beliefs-and-teachings/what-we-believe/catholic-social-teaching/seven-themes-of-catholic-social-teaching.cfm
Other resources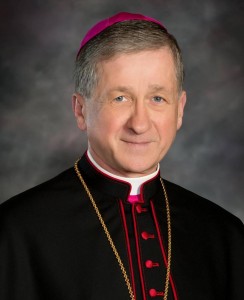 Cardinal-designate Blase Cupich of the Archdiocese of Chicago, who serves as the chairman of the Catholic Conference of Illinois, has suggested that lay Catholics may want to read a column in the Feb. 15 issue of America magazine, "The Greatness of a Nation," written by Bishop Robert McElroy of San Diego.
McElroy asserts that "that the central foundation for an ethic of discipleship in voting for the Catholic community in the United States today lies not in the embrace of any one issue or set of issues but rather in a process of spiritual and moral conversion about the very nature of politics itself." The column may be found here.
Cardinal-designate Cupich also recommends that Catholic voters read a Sept. 12 column written by Cardinal Donald Wuerl of the Archdiocese of Washington, D.C. Wuerl writes that lay Catholics must examine their conscience before casting their ballot, instead of looking to a pastor or bishop for voting advice.
"Today it is the central role of the bishop and priest to teach the faith, share Catholic moral and social principles, and to encourage lay men and women in their primary responsibility to take these truths and values into the economic, political and cultural world," Wuerl writes. "In regard to the teaching role of the church, Pope Francis writes in his first apostolic exhortation:
""In her dialogue with the State and with society, the church does not have solutions for every particular issue. Together with the various sectors of society, she supports those programs which best respond to the dignity of each person and the common good. In doing this, she proposes in a clear way the fundamental values of human life and convictions which can then find expression in political activity (Evangelii Gaudium, 241).'"
Bishop Edward K. Braxton of the Diocese of Belleville on Oct. 26 penned an op-ed for the St. Louis Post-Dispatch on so-called "minority" voters. Read it here or below:
There are no 'minority' voters
By Bishop Edward K. Braxton Oct 26, 2016

As Election Day approaches, commentators are speculating about the impact the minority vote will have on the outcome. Can Hillary Clinton win even if she does not receive as high a minority vote as President Obama did? Can Donald Trump win without a significant number of minority votes?
The minority voters they are speaking of are almost always African-Americans and Hispanic-Americans. Occasionally, Asian-Americans are mentioned. However, they never mention Jewish-Americans, Irish-Americans or German-Americans. Why is this?
A common definition of the word "minority" is "the smaller number or part, especially a number that is less than half the whole number." Nothing about this definition can be used to argue that African-Americans and Hispanic-Americans are the only minority groups in this country.
Biographers indicate that Clinton is primarily of English and Welsh heritage and Trump is primarily of Scottish and German heritage. Americans whose backgrounds are the same as those of the presidential candidates clearly constitute a number that is less than half of the U.S. population. Yet, neither presidential candidate is considered to be in a minority group.
Words like "minorities" and "minority groups" are clearly used selectively and are not applied consistently in reference to all ethnic groups that make up a statistically small number of the U.S. citizens. At times, these expressions seem to be used as code words with subtle negative connotations. Exactly which American citizens are members of majority groups? There is no single ethnic, racial or cultural group that constitutes true Americans. Every citizen of the U.S. is fully and equally an American in the exact same sense of the word.
Citizens who are descendants of passengers on the Mayflower are not, somehow, more truly Americans than descendants of "passengers" of slave ships, native people of the Seminole nation, or the most recent refugees from war-torn Syria, if they become citizens. The selective use of the word "minorities" as the collective designation of certain Americans can perpetuate negative stereotypes and is contradicted by what it means to be an American citizen.
European-Americans, with roots in Ireland, Italy or Poland, for example, were once ostracized in this country as "immigrants," "foreigners" and "undesirable minorities." The same was true of Jewish people. But why are they generally not considered minorities today? The answer is not because any one of these groups now constitutes the statistical majority of the U.S. population.
Matthew Frye Jacobson's "Whiteness of a Different Color: European Immigrants and the Alchemy of Race" explains that the process of gathering together those Americans whose ancestors were from various European countries with very little in common and making them the majority group and relegating everyone else as minorities is, historically, a rather recent and arbitrary development. As a result, some commentators have implied that even if European-Americans become fewer than 50 percent of the population, they should not be considered a minority group.
Yet, today, even when the majority of the residents in a city are African-Americans or Hispanic-Americans, they are still minorities. The expression "minority group" compels some Americans to think of themselves in terms of who they are not, rather than in terms of who they are. This is similar to Catholics referring to Protestants as "non-Catholics." No one ever calls Catholics "non-Presbyterians."
The rejection of the word "minority" would not be a matter of so-called political correctness. Words, as conveyers of meaning, have great power. They can have a positive or negative impact on the self-esteem of individuals and groups. This is not an argument in favor of ignoring the great diversity of our country. It is just as easy to speak about the turnout of African-Americans and Hispanic-Americans on Election Day as it is to speak about the turnout of minority groups.
A careful reflection on the meaning of the expression "E Pluribus Unum" excludes the possibility of designating minorities in this country, unless all citizens are so designated. A nation that proclaims itself to be "one from many" would be strengthened by affirming the truth there are no majority/minority groups in this country. In all of our diversity, we are striving to be one. That would be truly something for us all to celebrate on Election Day.
The Most Rev. Edward K. Braxton, bishop of the Diocese of Belleville, is one of six African-American diocesan bishops in the Roman Catholic Church. He served as auxiliary bishop and vicar general for the Archdiocese of St. Louis from 1995-2000.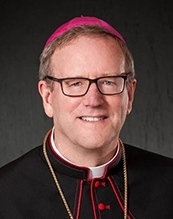 Auxiliary Bishop Robert Barron of Los Angeles, formerly a priest of the Archdiocese of Chicago and founder of "Word on Fire Catholic Ministries," also offers a suggestion that voters should keep in mind when heading to the polls in this short video clip.


Amendment to the Illinois Constitution

One amendment to the Illinois Constitution will be considered on the Nov. 8 ballot.
Known as the "lockbox amendment," the measure seeks to safeguard transportation-related funds for transportation needs.

Money is regularly collected for transportation needs through road tolls, license fees and the gas tax. However, because of Illinois' continuing dire financial straits, money set aside in special funds earmarked for specific purposes has often been used to help pay the state's bills. Such a scenario has occurred with the state's Road Fund, and other funds earmarked for transportation needs.
State lawmakers in both the House and the Senate approved the "lockbox amendment" for voters to consider on the November ballot. The measure would guarantee that monies collected for transportation-related expenses would go to transportation-related needs.
The measure has garnered support from both political parties, as well as from business and labor groups.
However, critics note that enshrining transportation funding in the state constitution restricts flexibility in using money for important state programs. They further question why transportation needs should be given a constitutional guarantee, when no such surety exists for education, human services, or other vital state programs.
Critics further note that business and labor support the amendment because it helps to ensure jobs in the road construction industry.
There are two ways for the amendment to be approved by voters: by receiving "yes" votes from at least 60 percent of the people voting on the amendment itself, or by receiving "yes" votes from a majority of everyone voting in the election overall.
An amendment to change how state legislative boundaries are drawn was knocked off the ballot by the Illinois Supreme Court in a partisan 4-3 decision on Aug. 25 — one day before the Illinois ballot was to be certified by the State Board of Elections.
The Independent Maps Coalition attempted to take politics out of the map-making process that occurs every 10 years after a federal Census. Currently, district lines are drawn by the political party that literally gets the luck of the draw. The party whose name is drawn out of a hat gets to draw the legislative map. This leads to gerrymandered districts that generally protect incumbent candidates.
The Independent Maps Amendment would have allowed an independent commission to draw legislative boundaries. Backers of the initiative gathered more than enough signatures to place the measure on the Nov. 8 ballot. However, an advocacy group that supports the current method of drawing boundaries filed a lawsuit, claiming the amendment is unconstitutional. A Cook County judge agreed, and that decision was appealed to the Illinois Supreme Court.
The state constitution limits ballot initiatives to "structural and procedural subjects contained in Article IV" — the section that deals with the legislature. Writing the majority opinion, Justice Thomas Kilbride noted earlier opinions on the issue had stressed "not every aspect of the legislative article is subject to amendment through the initiative process," since the constitution states such amendments are limited to "structural and procedural subjects."
Kilbride also took issue with the proposed amendment's new role for the state's auditor general in the redistricting process, noting the change would alter the constitution's description of duties for that office.
He concluded by writing that the court's role is "to review all ballot initiatives for constitutional merit only."
"We may not ignore our mandate by simply deferring to the redistricting approach proffered by a particular ballot proposal, no matter how appealing it may be," Kilbride wrote.
Justices Charles Freeman, Anne Burke and Mary Jane Theis concurred with the opinion, while then-Chief Justice Rita Garman dissented, along with Justices Robert Thomas and Lloyd Karmeier.
Thomas' dissent strongly disagreed with the majority opinion, stating that "the Illinois constitution is meant to prevent tyranny, not to enshrine it." He further noted the current political unrest among voters.
"In Illinois, as throughout the United States, there is a palpable sense of frustration by voters of every political affiliation that self-perpetuating institutions of government have excluded them from meaningful participation in the political process," Thomas wrote.
He concluded his dissent with the following:
"Today a muzzle has been placed on the people of this State, and their voices supplanted with judicial fiat," Thomas wrote. "The whimper you hear is democracy stifled. I join that muted chorus of dissent."
Are you registered to vote?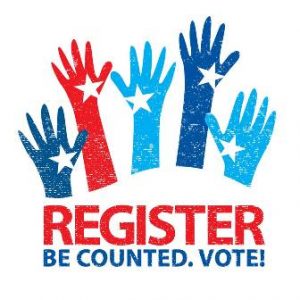 To be eligible to vote in Illinois, you must fulfill the following requirements:
You must be a United States citizen.
You must be at least 18 years of age by Election Day.
You must have been a resident of your current precinct at least 30 days prior to Election Day.
You must not be convicted and in jail.
You must not claim the right to vote anywhere else.
You can register to vote online at the website of the Illinois State Board of Elections. Don't forget to update your voter registration if you move or change your name.
Want to vote before Nov. 8?

Illinois law allows registered voters to cast a ballot before Election Day in order to encourage greater participation. Early voting begins on the 40th day preceding an election and extends through Election Day — for 2016, that is Sept. 29. Early voting locations are determined by local election authorities and are listed on the Illinois State Board of Elections website.