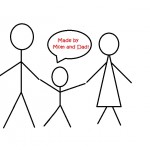 The Illinois Family Institute is sponsoring a Lobby Day to Preserve Marriage on Wed., Feb. 20, 2013, at the state Capitol in Springfield. Show up at the Capitol rotunda at 10:30 a.m., and look for a table sponsored by IFI in a hallway off the rotunda, where you can pick up information on lobbying your lawmakers.
For more information, click here, or call IFI at 708-781-9328.
Download a flyer on the Lobby Day here.
Bishop Jenky of Peoria to attend Lobby Day
Bishop Daniel Jenky of Peoria on Wed., Feb. 6 announced in a letter the diocese is chartering a bus from Peoria to Springfield for interested individuals at a cost of $20 per person. Registration is required by Fri., Feb. 15, using this form.
A Mass will be held at 8 a.m. on the 20th at the Spalding Pastoral Center, 419 NE Madison Ave., Peoria, IL 61603. The bus will then depart from the center at 8:45 a.m.
Participants are advised to bring a sack lunch, snacks, water, a driver's license or identification card, and to wear comfortable shoes.
After lobbying lawmakers, the bus will leave Springfield for Peoria at 1 p.m., arriving at the pastoral center at 2:30 p.m.
Need a ride to Springfield from the Chicago area?
St. Thomas More parish, located at 2825 W. 81st St. in Chicago, is chartering a bus to travel to Springfield for Lobby Day. Cost is $5 per person. Call the parish office at 773-436-4444 for more information.
The Respect Life Office of the Archdiocese of Chicago is chartering a van to travel to the state Capitol. Cost is $20 per person. The van will depart from St. John of the Cross parish, 5005 S. Wolf Road, Western Springs, IL 60558. Call the Respect Life Office at 312-534-5355 for more information.