Nov. 6, 2012: Election Day
As American citizens, we have the right to vote. As Catholics, we have the moral obligation to vote.
Before we cast our votes at the ballot box, we must educate ourselves on the issues and candidates. Granted, it can be confusing to cut through all of the sound bites and spin of the political campaigns.
But your Catholic faith can help cut through the clutter.
Illinois Bishops Offer Guidance On Voting
As a church, we can't tell you who to vote for. But we can offer some points for you to ponder before heading to the polling place.
Our six diocesan bishops have written a series of four bulletin inserts set to appear in parishes statewide beginning Sept. 23. After an introductory letter, the inserts stress the importance of conscience, moral clarity and religious liberty.
Cardinal George has asked all of the priests in the Archdiocese of Chicago to direct parishioners' attention to the bulletin inserts, as we approach Election Day.
The schedule of the inserts follows, or click on the links to read the inserts in English, Spanish or Polish.
For the weekend of Sept. 23 — This introductory letter offers a glimpse of what to expect in the upcoming inserts. Read it in Spanish or Polish.
For the weekends of Sept. 30 and Oct. 7 — This second insert explores the importance of conscience, which is more than just a "feeling." Read it in Spanish or Polish.
For the weekends of Oct. 14 and 21 — This third insert looks at the moral clarity needed to evaluate a candidate's position on public policy issues. Read it in Spanish or Polish.
For the weekends of Oct. 28 and Nov. 4 — This final insert stresses the importance of safeguarding our religious freedom, which has recently come under attack from the limited definition of religious employer proposed by the Department of Health and Human Services. Read it in Spanish or Polish.
Questions To Ask State Legislative Candidates
CCI has compiled a list of questions to ask candidates seeking to represent you in the state legislature. The questions focus on initiatives that have been considered or may be considered by the legislature. Ask the candidates if they support the following questions and issues.
Rights and Dignity of the Human Person:

– House Bill 4085 — Providing an opportunity to view an ultrasound prior to an abortion?
– Preserving the state ban on the death penalty?
– Prohibiting research that destroys human embryos?
Family Life:

– HJCRA 50 — Preserving marriage as the lifelong union between a man and a woman?
– HB 5755 — Establishing tax credits for donations to organizations helping children attend the school of their family's choice?
– HB 6134 & SB 3908 — Providing secular textbooks to nonpublic school students?
– Allowing immigrants brought here as an undocumented child a path to citizenship?
Religious Liberty:

– DHHS Mandate — Protecting religious liberty and freedom of conscience for individuals and religious institutions?
Poor and Vulnerable:

– Maintaining funding for safe and affordable housing?
– Providing community-based treatment instead of incarcerations to non-violent drug and alcohol offenders?
Care of God's Creation:

– Supporting farmers who implement environmentally sound practices?
Read a pdf of the list of questions.
How Did My State Lawmaker Vote On Key Legislation?
If your current state representative and state senator are running for re-election, you can see how they voted on past key legislation. Check out our "Key votes" page, and see how legislators voted on issues such as abolition of the death penalty, civil unions, the Illinois DREAM Act, the state income tax increase, and tuition vouchers.
If you don't know who your state lawmaker is, find out here.
USCCB And Faithful Citizenship
The U.S. Conference of Catholic Bishops last year updated the introduction to "Forming Consciences for Faithful Citizenship" — known among Catholics as simply "Faithful Citizenship." This 45-page booklet gives a good overview of Catholic Social Teaching and how it should be applied to public policy. The document also addresses questions voters may have about applying Catholic Social Teaching to the positions of specific candidates.
Perplexed By The Pension Amendment On The Ballot? We Explain It
Illinois residents will face a question of amending the state constitution when they head to the voting booth on Nov. 6.
The proposed amendment has created a lot of confusion since it deals with pensions. But it does not affect the current status of public employee systems, and does not affect pensions that retirees currently receive.
The amendment is fairly simple. It says that any time the state, a school district or a unit of local government — such as a city, town or county — decides to take an action that would increase a public pension or retirement benefit, that action must be approved by a three-fifths vote of the governing body — such as the legislature, a school board, a city council or a county board.
Currently, a proposal that would increase a public pension or retirement benefit requires a simple majority for passage.
If the governor vetoed or changed such a measure, the proposed amendment would require a two-thirds vote to override the veto or to accept the changes. Currently, a three-fifths vote is needed to override a governor's veto, while only a simple majority is needed to accept a governor's changes.

A traditional pay raise, or a wage level increase, is NOT considered to be a public pension or retirement benefit increase under the proposed amendment.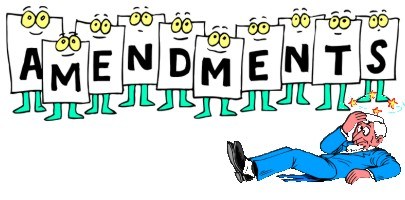 The amendment defines a "benefit increase" as a change to any pension or other law that results in a member of a pension or retirement system receiving a new benefit or an enhancement of a current benefit. A "benefit increase" also includes any changes that increase the amount of a member's pension, or reduce or eliminate the eligibility requirements a member must meet to receive a pension.
A "benefit increase" also includes a change to any pension or other law that expands the class of persons who may become members of any pension or retirement system.
Again, a traditional pay raise, or a wage level increase, is NOT considered to be a public pension or retirement benefit increase under the proposed amendment.
The following arguments for and against the proposed amendment are offered by the office of the Illinois Secretary of State, which has published and mailed a brochure on the amendment to every registered voter in Illinois.
Pros: Advocates of the amendment say a higher vote requirement would create fiscal responsibility and prevent future unfunded liabilities of public pensions, such as we have now in an unfunded $83 billion liability. They also say that requiring more votes provides more accountability, and also creates a greater bipartisan consensus among those voting for any measure that would increase benefits.
Cons: Critics of the amendment say a higher vote requirement may limit the bargaining power of both employees and employers. Union employees may find it more difficult to gain certain increased benefits, while employers may find it more difficult to offer certain incentives. This potential decrease in bargaining power may limit the quality of employees the state can attract. Critics also say disagreements will most likely arise on what determines a "benefit increase."
The Catholic Conference of Illinois is not taking a position on this amendment.
Got Questions About Political Activities? We've Got Answers
As tax-exempt organizations, parishes and Catholic Church organizations are prohibited from participating in partisan political activities. However, there are some activities in which you can participate.
Check out CCI's "Guidelines on Political Activities for Parishes and Catholic Church Organizations." It gives you a handy list of do's and don'ts.
Voter Registration Drives And Early Voting
The guidelines brochure mentioned above notes that churches can conduct voter registration drives. Illinois state law allows registration year-round EXCEPT during the 27-day period just prior to an election and during the 2-day period after each election (1 day after in Chicago). This means that for the Nov. 6, 2012 election, the last day to register to vote is Oct. 9. Contact your county clerk's office for information and materials.
Or, contact the Illinois State Council of the Knights of Columbus — the organization is conducting statewide voter registration drives during this election cycle. Maybe they are conducting a drive in your area.
And don't forget that early voting begins Mon., Oct. 22 and continues through Sat., Nov. 3. Check this link to find locations for early voting in your county.