Archbishop Cupich of Chicago today joined state lawmakers and health care advocates in a celebration of the reauthorization of a state program that allows parents of low- to middle-income families to purchase low-cost health insurance for their children.
Archbishop Cupich noted the Catholic Church's commitment to health care as a basic human right comes from the teachings of Jesus, who made healing a central part of his ministry.
"We care for one another because we are all in the same boat and share the same human condition," Archbishop Cupich said. "This is a reality that we should never lose sight of."
Illinois lawmakers 10 years ago approved the "Covering All Kids" program, which offers parents affordable monthly premiums for their children, in addition to co-payments for doctor visits and prescriptions. The program was set to expire on July 1, but House Bill 5736 extended the deadline to Oct. 1, 2019. The program currently covers about 41,000 children not eligible for Medicaid or the Children's Health Insurance Program (CHIP), and is also open to undocumented children residing in Illinois.
Archbishop Cupich told the crowd gathered at St. Ignatius College Prep that only a week ago, Pope Francis had visited a children's hospital in Krakow, Poland, where he complimented the workers on caring for the smallest and most needy. The pope thanked them for their love, Cupich said.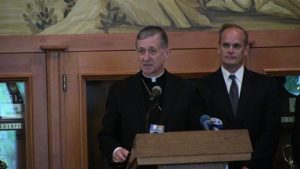 "I want to thank all of you for this sign of love for our Illinois children," Cupich told the audience.
Catholic Conference of Illinois Executive Director Robert Gilligan introduced Cupich, noting that the archbishop told him of his concern for the reauthorization of "Coving All Kids" early on in the spring legislative session, despite being a relative newcomer to the Illinois political landscape.
"His instincts were spot on," Gilligan said.
CCI supported the original legislation 10 years ago, and joined a bipartisan effort to advocate for House Bill 5736 this spring.
Watch a Facebook photo video of today's event here.
Also speaking today were parents of children participating in the program, as well as Senate President John Cullerton, D-Chicago; House Republican Leader Jim Durkin, R-Burr Ridge; and House and Senate sponsors of the legislation, Rep. Elizabeth Hernandez, D-Cicero; and Sen. Iris Martinez, D-Chicago. Several other attendees also spoke, including Presence Health President and CEO Mike Englehart, Healthy Illinois Coalition Co-Chairwoman Carmen Velasquez, National Partnership for New Americans Executive Director Joshua Hoyt, and Illinois Business Immigration Coalition Executive Director Rebecca Shi.