Auxiliary Bishop Alberto Rojas of the Archdiocese of Chicago today urged rally attendees at a Chicago church to push state lawmakers to extend the deadline of a children's health insurance program.
The Covering All Kids Health Insurance Act — commonly known as All Kids — was approved by lawmakers in 2006, with a sunset date of July 1, 2016. The program provides health insurance to approximately 41,000 children of low- to middle-income families not covered by Medicaid or the Children's Health Insurance Program (CHIP). House Bill 5736 extends the deadline of the program to Oct. 1, 2019.
Rojas quoted Pope Francis when imploring attendees at a rally/press conference held at St. Pius V parish in the Pilsen neighborhood of Chicago to support HB 5736.
"Just a few weeks ago, Pope Francis issued his landmark document on the family, 'Amoris Laetitia' or 'The Joy of Love," Rojas said. "In it he speaks about the need to support families in this fast-paced, fragmented society. He notes that a lack of adequate health care only adds to the existing stresses that families face. All Kids eliminates one of those stresses for Illinois families."
The Catholic Conference of Illinois supports HB 5736, with Executive Director Robert Gilligan speaking at a statehouse press conference earlier this month. The legislation passed the House on April 19, and now needs Senate approval. Gov. Bruce Rauner supports the extension of the program.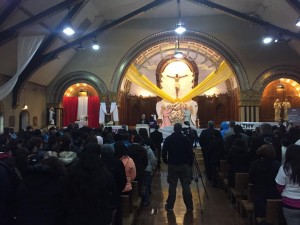 Families eligible for All Kids must have an income from 210 percent through 318 percent of the federal poverty level. Parents must pay monthly premiums of $40 for one child, and $80 for two or more children. Co-pays for doctor visits and prescriptions are also required. The program is also open to undocumented children residing in Illinois.
Of the 40,975 children enrolled in All Kids as of Jan. 1, 40,221 of them are eligible for Medicaid, so the state is partially reimbursed for their cost. As part of the Affordable Care Act, the federal Medicaid reimbursement for this program was increased to 88.62 percent from the usual 50 percent, as of Oct. 1, 2105. That extra reimbursement will expire on Sept. 30, 2019. Also, according to the requirements of the Affordable Care Act, a state must maintain its coverage of children that was in effect as of December 2009, or it risks losing all Medicaid reimbursement.
Also speaking at the rally were the Rev. Stan Davis, co-executive director of the Council of Religious Leaders of Metropolitan Chicago; the Rev. Dr. B. Herbert Martin, Sr. of Progressive Community Church; Tabassum Haleem, executive director of The Council of Islamic Organizations of Greater Chicago; Esther Corpuz, CEO of Alivio Medical Center; Susan Gordon of Lurie Children's Hospital of Chicago; and Illinois state Sens. Antonio Munoz and William Delgado, both D-Chicago.