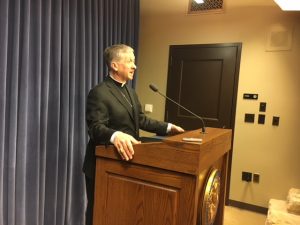 Cardinal Blase Cupich today traveled to Springfield to hold a press conference at the Illinois Capitol on his concerns regarding the growing problem of gun violence, as state lawmakers discuss various proposals that would limit access to firearms.
The Cardinal did not support any specific legislation.
He recalled the recent Feb. 14 mass shooting at a high school in Parkland, Florida, that left 17 people dead after 19-year-old Nikolas Jacob Cruz allegedly entered the school near dismissal time, pulled a fire alarm and started shooting with an AR-15 style semi-automatic rifle. Surviving students and their counterparts across the country have mobilized, calling on state and federal lawmakers for some sort of gun control.
"Our young people are shaming the adult world to recall that the principle rights among all those we hold inalienable in this nation are the rights to life, liberty and the pursuit of happiness," Cardinal Cupich said.
He acknowledged the U.S. Conference of Catholic Bishops has long supported gun-safety regulations without infringing on Second Amendment rights.
"Defense of those rights, however, cannot take a second place to the rights our children are demanding to guarantee their futures," the Cardinal said.
He also noted the Feb. 13 shooting of Chicago Police Department Commander Paul Bauer, who was allegedly shot in downtown Chicago by Shomari Legghette, 44, who was wearing body armor and used a handgun with an extended magazine. The Cardinal stressed that law enforcement officers deserve assurances of basic safety when doing their job.
"Their right to return home safely each day to their families includes the reasonable expectation that those who would harm society are not armed with weapons designed for the battlefield, and bullets designed to kill police officers," Cardinal Cupich said.
He urged lawmakers to enact measures that limit gun ownership to those who can manage that responsibility; to restrict the sale of some firearm enhancements, such as bump stocks; and to approve the sharing of data of guns used in crimes among authorities. He also called for elected officials to address the root causes of violence by providing adequate funding for mental health care, giving students access to a solid education, and pushing for a fair wage to lift families out of poverty.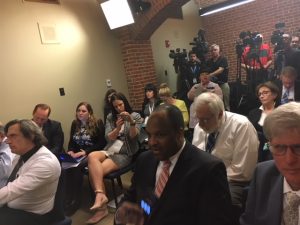 "Our elected officials may not be able to do everything all at once, and they may not be able to save everyone, but in the name of those murdered children, they must begin the process of walking away from the moral compromises that doom our society to inaction."
The Cardinal's press conference comes on the heels of his hiring a violence-prevention director earlier this month to oversee the anti-violence initiatives he announced last year. Pope Francis wrote a letter to Cardinal Cupich about the initiatives, remarking, "The consistent practice of nonviolence has broken barriers, bound wounds, healed nations — and it can help heal Chicago."
"I add that it also can help heal our state and our nation," Cardinal Cupich said. "It is now up to us to act decisively. Our children are watching."
Note: Read the prepared remarks of Cardinal Cupich here.