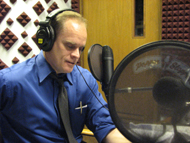 CCI Executive Director Robert Gilligan hosts the Catholic Conference Radio Hour on the third Monday of the month on Relevant Radio. Gilligan discusses current public policy issues affecting the Church with experts and newsmakers.
Rob Griffin, associate director of research at the Washington, D.C.-based Public Religion Research Institute, joins Bob to talk about recent results of a public opinion poll indicating the tide may be turning slightly in favor of religious freedom.Then, Fr. Charles Bouchard, Senior Director of Theology and Ethics at the Catholic Health Association, joins Bob to talk about the recent New York Times article for which he was interviewed in which Catholic health care was put on the firing line for its life-affirming perspective that does not allow morally objectionable services such as abortion and sterilization. The article is the latest in a string of recent media pieces that are critical of Catholic health care.
The nomination of Brett Kavanaugh to the U.S. Supreme Court kicks off the show, as Chicago attorney Jim Geoly joins Bob to talk about the Senate confirmation process. Next, state Sen. Dale Righter, R-Mattoon, discusses the impact of a recent U.S. Supreme Court ruling regarding crisis pregnancy centers and how it may set a precedent for a similar Illinois case currently in the courts. Then, Greg Bishop, a journalist for the Illinois News Network, joins Bob to talk about a recent story he did on a 274 percent increase in the number of taxpayer-funded abortions for the first six months of 2018 as compared to the same time frame in 2017. He attributes the increase to the fact that HB 40 – which allows the use of taxpayer funds to pay for elective abortions in the Medicaid program, as well as the state employee insurance program – was implemented Jan. 1. Finally, Mary Kate Knorr, the new executive director of Illinois Right to Life, joins Bob to talk about her new role.
Ashley Feasley, director of policy for the USCCB's Migration and Refugee Services, joins Bob to offer some clarity on the issue of family separation, unaccompanied minors, and the so-called "lost" children. Next, Rick Garnett, law professor at Notre Dame Law School, talks about the recent U.S. Supreme Court ruling in Masterpiece Cakeshop, Ltd., v. Colorado Civil Rights Commission. Then, Dr. Frances Broghammer, a resident in psychiatry at the University of California at Irvine, talks about the just-published Centers for Disease Control report on an increased suicide rate across the country, in light of the recent suicides of fashion designer Kate Spade and chef/traveler Anthony Bourdain. Finally, Fr. Matt O'Donnell, pastor of St. Columbanus parish in Chicago, talks about his work and ministry that led to his winning the 2018 CCHD Cardinal Bernardin New Leadership Award.
Robert Dunham, executive director of the Death Penalty Information Center, joins Bob to talk about Gov. Rauner's call to reinstate the death penalty for mass murderers and those convicted of killing a police officer. Next, Greg Schleppenbach, assistant director of pro-life activities at the U.S. Conference of Catholic Bishops (USCCB), discusses the Trump administration's proposed rule change that drops a requirement that Title X funding recipients must provide abortion counseling to patients. This is expected to put a crimp in Planned Parenthood's business. Then, Hillary Byrnes, assistant general counsel at the USCCB, talks about the current U.S. Supreme Court case concerning a California law that requires crisis pregnancy centers to post notices that women can get information on free or low-cost abortions from the state. A ruling is expected before the end of June. Finally, Lou Slapshak, a lay Catholic in the Belleville diocese, talks about his involvement with Our Brothers' Keepers, an organization dedicated to helping former inmates re-enter society.