Catholic Conference Radio Hour on Chicagoland Catholic Radio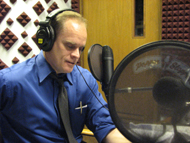 CCI Executive Director Robert Gilligan hosts the Catholic Conference Radio Hour on the third Monday of the month on WNDZ Chicago 750 AM. Gilligan discusses current public policy issues affecting the Church with experts and newsmakers.
Aug. 22, 2011 show Bob took on the federal rule requiring insurance coverage of contraceptives and the federal government's Secure Communities program. Patrick Cacchione, executive director of the Illinois Catholic Health Association, and Erica Laethem, director...