Catholic Conference Radio Hour on Chicagoland Catholic Radio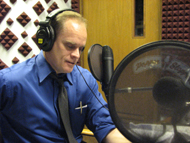 CCI Executive Director Robert Gilligan hosts the Catholic Conference Radio Hour on the third Monday of the month on WNDZ Chicago 750 AM. Gilligan discusses current public policy issues affecting the Church with experts and newsmakers.

Aug. 27, 2012 show Fr. Larry Dowling of Priests for Justice for Immigrants joins host Bob Gilligan to discuss the deferred action program proposed by the federal government for young, undocumented immigrants. On the first day that applications were accepted for the...