Catholic Conference Radio Hour on Chicagoland Catholic Radio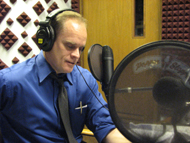 CCI Executive Director Robert Gilligan hosts the Catholic Conference Radio Hour on the third Monday of the month on WNDZ Chicago 750 AM. Gilligan discusses current public policy issues affecting the Church with experts and newsmakers.

April 16, 2012 show Bob Gilligan talks to Bishop Daniel Jenky as he celebrates 10 years as bishop of Peoria. David Morrison of the Illinois Campaign for Political Reform explains political action committees and the power they have in making contributions for...