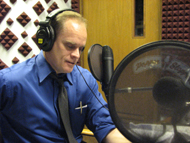 CCI Executive Director Robert Gilligan hosts the Catholic Conference Radio Hour on the third Monday of the month on Relevant Radio. Gilligan discusses current public policy issues affecting the Church with experts and newsmakers.
Les Bernal, national director of Stop Predatory Gambling, joins Bob to talk about the deleterious personal and societal effects expected from the massive gaming expansion passed by the legislature this spring – up to six new casinos, including one in Chicago, slot machines at race tracks, legalized sports betting, and a possible "racino" (horse racing track/casino) in the south suburbs. Then, Dr. Paul Berkowitz, chief medical officer/vice president and chair of the psychiatry department at Sinai Medical Group, along with Dennis Ryan, vice president of mission and external affairs at Holy Cross Hospital, talk about Holy Cross's recent grand opening of its 24-hour Crisis Stabilization Unit. The new unit offers immediate behavioral care, especially for those individuals who are often arrested for petty offenses and placed in jail, when what they really need is psychiatric care and treatment. Finally,  Sr. Donna Markham, OP, President and CEO of Catholic Charities USA, joins Bob to talk about the agency's humanitarian aid to sites near the border dealing with a larger-than-usual influx of migrants. Sr. Donna herself will be visiting the Laredo, Texas, Catholic Charities on July 22. All contributions for this effort go to meet basic needs and ensure that children are being treated with care and kindness. To donate, go to www.catholiccharitiesusa.org/border-crisis/.
Juan Rangel, strategy director for Empower Illinois, the organization that awards Tax Credit Scholarships to most of the Catholic schools in Illinois, joins Bob to talk about the complete funding of the program in the new state budget despite earlier threats to diminish it. Next, Pat Winn, executive director of Catholic Charities of the Rockford diocese, talks about the scourge of human trafficking and how his organization is fighting it on a county-by-county level. Finally, Ralph Rivera, lobbyist for Illinois Right to Life, joins Bob to talk about the final version of the "Reproductive Health Act" that was signed into law last week.
Greg Schleppenbach, associate director of pro-life activities at the USCCB, joins Bob to talk about conscience protections afforded by new rules recently issued by the federal Department of Health and Human Services. Next, Stanley Carlson-Thies, founder and senior director of the Institutional Religious Freedom Alliance, talks about the religious freedom concerns of the Equality Act, which amends the federal Civil Rights Act to prohibit discrimination on the basis of sexual orientation and gender identity. Finally, Andy Duran, executive director of substance abuse-prevention organization LEAD, talks about the progress of marijuana legalization at the state Capitol.
Kathleen Gallagher, director of pro-life activities for the New York State Catholic Conference, joins Bob to talk about the fall-out from that state's passage of extreme abortion legislation in January. Next, Jenn Briemann, executive director of the Maryland Catholic Conference, talks about how physician-assisted suicide legislation suddenly took off this spring. The Maryland House passed PAS legislation on March 7 by a 74-66 vote. The legislation went on to be considered by the full Senate on March 27, where it was defeated when it fell to a 23-23 tie vote. Then, Robert McCoppin, a reporter for the Chicago Tribune, discusses how legalization efforts for marijuana are progressing in the legislature. Gov. J.B Pritzker's proposed budget counts on $170 million from the sale of licenses, but no language for the authorizing legislation is expected until late April. Finally, Michael O'Rourke, policy advisor with the U.S. Conference of Catholic Bishops, talks about federal criminal justice reforms embodied in the First Step Act, passed and signed into law in late December.