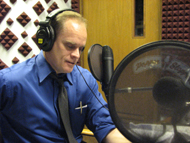 CCI Executive Director Robert Gilligan hosts the Catholic Conference Radio Hour on the third Monday of the month on Relevant Radio. Gilligan discusses current public policy issues affecting the Church with experts and newsmakers.
Greg Schleppenbach, associate director of pro-life activities at the USCCB, joins Bob to talk about conscience protections afforded by new rules recently issued by the federal Department of Health and Human Services. Next, Stanley Carlson-Thies, founder and senior director of the Institutional Religious Freedom Alliance, talks about the religious freedom concerns of the Equality Act, which amends the federal Civil Rights Act to prohibit discrimination on the basis of sexual orientation and gender identity. Finally, Andy Duran, executive director of substance abuse-prevention organization LEAD, talks about the progress of marijuana legalization at the state Capitol.
Kathleen Gallagher, director of pro-life activities for the New York State Catholic Conference, joins Bob to talk about the fall-out from that state's passage of extreme abortion legislation in January. Next, Jenn Briemann, executive director of the Maryland Catholic Conference, talks about how physician-assisted suicide legislation suddenly took off this spring. The Maryland House passed PAS legislation on March 7 by a 74-66 vote. The legislation went on to be considered by the full Senate on March 27, where it was defeated when it fell to a 23-23 tie vote. Then, Robert McCoppin, a reporter for the Chicago Tribune, discusses how legalization efforts for marijuana are progressing in the legislature. Gov. J.B Pritzker's proposed budget counts on $170 million from the sale of licenses, but no language for the authorizing legislation is expected until late April. Finally, Michael O'Rourke, policy advisor with the U.S. Conference of Catholic Bishops, talks about federal criminal justice reforms embodied in the First Step Act, passed and signed into law in late December.
Paul Linton, nationally-known attorney on abortion law, joins Bob to talk about abortion legislation pending before the Illinois legislature. Then, Melissa Hastings of the U.S. Conference of Catholic Bishops discusses potential federal legislation that would help Dreamers and those individuals with Temporary Protected Status. Finally, Don Carlson of Illinois People's Action talks about House Bill 2468, which would cap exorbitant rates on car title loans.
Peter Steinfels, former editor of Commonweal magazine and a religion reporter for the New York Times, joins Bob to talk about the essay he wrote for the magazine a few weeks ago in which he extensively examined the Pennsylvania grand jury report. Clarke Forsythe, senior counsel for Americans United for Life, talks about the recent abortion legislation introduced in the Illinois General Assembly. Then, Illinois state Sen. Chuck Weaver, R-Peoria, discusses Senate Bill 156, which would allow inmates in the state's prisons access to online job sites so they can apply for jobs for when they are released. Finally, Kris Cortes, board member of Chicagoland pregnancy help center Aid for Women, joins Bob to talk about the organization's new location in Flossmoor.