Catholic Conference Radio Hour on Relevant Radio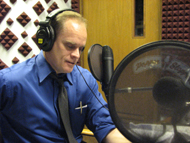 CCI Executive Director Robert Gilligan hosts the Catholic Conference Radio Hour on the third Monday of the month on Relevant Radio. Gilligan discusses current public policy issues affecting the Church with experts and newsmakers.

Oct. 15, 2018 show Manya Brachear, religion reporter for the Chicago Tribune, joins Bob to talk about her career covering the Catholic Church in Chicago as she moves to the East Coast. Next, Eric Scheidler, executive director of the Pro-Life Action League, talks about...