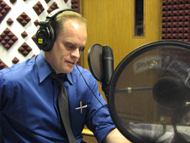 CCI Executive Director Robert Gilligan hosts the Catholic Conference Radio Hour on the third Monday of the month on Relevant Radio. Gilligan discusses current public policy issues affecting the Church with experts and newsmakers.
Jak Tichenor, interim director of the Paul Simon Public Policy Institute at Southern Illinois University at Carbondale, joins Bob to talk about the political fallout from Gov. Bruce Rauner's decision to sign into law legislation that authorizes taxpayer-funded abortions after pledging to veto it. Next, Tony Cube with the USCCB's Justice for Immigrants talks about the latest developments on the Deferred Action for Childhood Arrivals (DACA) program. Then, Joyce Duriga, editor of the Chicago Catholic, discusses her new book – "Helen Prejean: Death Row's Nun." Finally, Susan Walker talks about the McHenry County nonprofit organization she founded called Rest in His Arms, which provides funerals and burials for abandoned and deceased infants.
Mary Massingale, CCI's director of communications, fills in as host since Bob Gilligan was in Springfield lobbying for the Scholarship Tax Credit. Sarah Brune, executive director of the Illinois Campaign for Political Reform, joins Mary to talk about the especially large number of state legislator retirements being announced ahead of the 2018 legislative campaign season. Next, Greg Dolan, associate director for public policy for Catholic education for the U.S. Conference of Catholic Bishops, discusses the preliminary details of the Scholarship Tax Credit currently being sought by CCI and expected to be voted on tomorrow in the Illinois House. Then, Tom Olp and Stephen Crampton, attorneys with the Thomas More Society, talk about their latest legal move in trying to burst the city of Chicago's bubble zone. Finally, Sue Barrett, executive director of Aid for Women, the leading pregnancy resource center in Chicagoland, joins Mary to talk about the organization's annual fundraising dinner set for Sept. 14, featuring political columnist/commentator Cal Thomas.
After two years of gridlock, Illinois finally has a fully-funded budget — and an income tax increase. Jack Tichenor, interim director of the Paul Simon Public Policy Institute at Southern Illinois University and longtime statehouse journalist, joins Bob to recap the budget and income tax increase put into place earlier this month when the Illinois legislature overrode the governor's vetoes of both initiatives. Left in the lurch, however, is funding for K-12 education, since the budget calls for school monies to go into an "evidence based" formula. Senate Bill 1 has such a formula, has been passed by both the House and Senate, but has yet to make it to the governor's desk since he has promised to amendatorily veto it. Dr. Jim Rigg, superintendent of Chicago Catholic Schools, joins Bob to talk about CCI's efforts to add changes to SB 1 that would create a scholarship tax credit resulting in grants to qualified low- and middle-income students to attend Catholic and private schools. Then, Jim Geoly, a partner with the downtown Chicago law firm of Burke, Warren, MacKay & Serritella, joins Bob to talk about the recent U.S. Supreme Court 7-2 decision in Trinity Lutheran Church of Columbia, Inc. v. Comer, which is being hailed by the U.S. Conference of Catholic Bishops as a "landmark victory for religious freedom." Finally, John Haas, president of the National Catholic Bioethics Center, joins Bob to talk about the case of Charlie Gard, the 11-month old boy in England who has a life-threatening disease. His parents are locked in a legal battle with a London children's hospital in an attempt to take Charlie to the United States for highly experimental treatment the hospital believes will not help and will cause him pain.
Dr. Brian Callister, an internal medicine specialist located in Reno, Nevada, joins Bob to tell the story of how an insurance company told him it would pay for assisted suicide rather than an expensive medical treatment for two of his patients. He recounts this story in a short video produced by the Patients' Rights Action Fund. Then, Msgr. Pat Pollard, director of Catholic Cemeteries for the Archdiocese of Chicago, talks about this unique ministry as he approaches a June 30 retirement date. Closing out the show, Rachel Yarch, a partner with the downtown Chicago law office of Burke, Warren, MacKay and Serritella, discusses a recent unanimous U.S. Supreme Court ruling that holds that faith-based hospital pension plans are covered by the "church plan" exemption under the Employment Retirement Income Security Act (ERISA). The decision in Advocate Health Care v. Stapleton represents a major victory for religious-based health care systems.