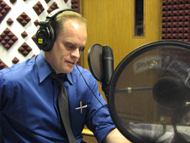 CCI Executive Director Robert Gilligan hosts the Catholic Conference Radio Hour on the third Monday of the month on Relevant Radio. Gilligan discusses current public policy issues affecting the Church with experts and newsmakers.
Members of St. Martin de Porres parish in the Austin neighborhood of Chicago regularly go out into the streets after Mass, holding signs of "Honk for Jesus," and "Prayer Changes Things." Pastor Tom Walsh tells Bob about the programs offered by the parish to residents as an alternative to the sometimes violent unrest found in a neighborhood beset by high unemployment and poverty. Next, Cook County Circuit Judge Colleen Sheehan talks about the upcoming pilot program for a Restorative Justice Community Court in Chicago's North Lawndale neighborhood made possible by a grant from the U.S. Department of Justice. Stephanie Murray Johnson, director of government relations for Catholic Charities of Chicago, alerts listeners that the stopgap state budget approved for the first six months of the new fiscal year that began July 1 offers only a little relief for social service providers since they are getting reimbursed for 65 percent of contracted costs. Regina D'Amico of Illinois Right to Life tells listeners about the organization's upcoming "Barnyard Bash" set for Aug. 7.
Sr. Cathy Ryan, executive director of Maryville Academy, joins Bob ito talk about Maryville's new direction since she recently announced the longtime institution would end its residential program for wards of the state as of June 30 in the face of shrinking state funding for such programs, as community-based placements are seen as more beneficial for children. Ned Dolesji, executive director of the California Catholic Conference, joins the program to talk about that state's new physician-assisted suicide law, which went into effect on June 9. Additionally, California Gov. Jerry Brown's proposed budget calls for $1.2 million for lethal drugs for the state's Medicaid patients who are seeking physician-assisted suicide – and the Medicaid program does not pay for palliative care. Next, David Yepsen, director of the Paul Simon Public Policy Institute at Southern Illinois University at Carbondale, discusses the new report by the institute that compiles results from its public opinion polls over the past nine years. The conclusion: We, the voters, bear significant responsibility for the current debt crisis and gridlocked government in Illinois. Why? Because we the voters elected the leaders responsible for this state of affairs AND we consistently insisted on an untenable high-service/low-tax status quo. Finally, Greg Schleppenbach, former executive director of the Nebraska Catholic Conference, talks about his new job as associate director of the Secretariat of Pro-Life Activities at the U.S. Conference of Catholic Bishops (USCCB). He replaces Richard Doerflinger, who recently retired after 36 years with the USCCB.
Cynthia Canary, executive director of the Independent Map Coalition, talks to Bob about the organization's effort to put on the November ballot an amendment calling for an independent commission to draw the state's legislative districts. Currently, lawmakers draw the lines, and whatever party is in power gets the honor. The result: gerrymandered districts that protect incumbents. Next, state Sen. Patricia Van Pelt, D-Chicago, discusses her efforts to protect juveniles in custody for homicide or sex offense cases by requiring minors under the age of 15 — now the age is 13 — to have a lawyer present. Senate Bill 2370 also calls for a simplified Miranda warning to be given to juveniles younger than 18. Then, Patrick Murray, a consultant for Granada Liturgical Arts, made national news recently with his "Church Madness" that was set up like an NCAA basketball tournament bracket. The event showed up on his blog, www.artandliturgy.com, in March as a competition for the most beautiful church in the Unites States. The winner — St. John Cantius of Chicago. Wrapping up the show, Joanna Arellano of the Archdiocese of Chicago's Office for Peace & Justice talks to Bob about the national Social Action Summer Institute her office is hosting in July. Speakers include Fr. Michael Pfleger of Chicago, Fr. Larry Dowling of Chicago, and Bishop Edward K. Braxton of Belleville.
Sr. Rosemary Connelly of Misericordia and Scott Mendel, an attorney and parent of a Misericordia resident, join Bob to talk about state legislation that would create a special state license to oversee the continuum of care for the developmentally disabled. The license would allow for a streamlining of operations at Misericordia, which offers a variety of living situations for the developmentally disabled. Next, state Rep. Patti Bellock, R-Westmont, talks about the extension of the All Kids health insurance plan to 2019, since the 10-year program initiated by former Gov. Rod Blagojevich will expire this coming July 1. House Bill 5736, which extends the deadline of the program to Oct. 1, 2019, passed out of committee last week and is ready to be called for a vote before the full House. The program is for children who do not qualify for the traditional Medicaid program. Then, state Rep. Marcus Evans, D-Chicago, discusses House Bill 5973, which would make it easier for ex-offenders to get occupational licenses — barber, cosmetologist, real estate, public accountant, etc. — unless their crime was connected to the profession. Closing out the show, Ralph Rivera, lobbyist for Illinois Citizens for Life, joins Bob to talk about House Bill 4013, which would allow taxpayer money to be used for elective abortions.