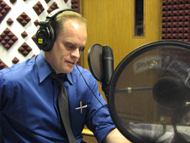 CCI Executive Director Robert Gilligan hosts the Catholic Conference Radio Hour on the third Monday of the month on Relevant Radio. Gilligan discusses current public policy issues affecting the Church with experts and newsmakers.
Host Bob Gilligan is joined by Jason Negri, a lawyer and assistant director of the Patients Rights Council, to talk about the physician-assisted suicide movement in the United States. Then, Dr. Mark Potosnak, an assistant professor in the Department of Environmental Science and Studies at DePaul University, joins Bob to talk about Pope Francis' recent encyclical, Laudato Si', and what it means to Catholics and the Archdiocese, in particular. To close out the show, Pam Terrell, division director of community services for Catholic Charities in the Joliet diocese, talks about how proposed budget cuts will affect the services the agency provides to its clients.
CCI's own Zach Wichmann joins Bob to urge listeners to call or email their state lawmakers to support the Illinois Kids Campaign. This initiative would increase the education expenses tax credit to $1,000 from $500, and would create scholarships for kids to attend Catholic schools. Next, Anita Bedell of the Illinois Church Action on Alcohol and Addiction Problems talks about the real possibility of gambling expansion to fix revenue problems for both the state and the city of Chicago. Then, Hillary Byrnes of the U.S. Conference of Catholic Bishops joins the show to talk about the upcoming Fortnight for Freedom slated for June 21-July 4 and its theme of "Freedom to Bear Witness." Finally, Fr. Chris Reuter, O.F.M., prison ministry coordinator for the Belleville diocese, discusses the testimony he gave at a recent meeting of the Illinois State Commission on Criminal Justice and Sentencing Reform. This new commission created by Gov. Bruce Rauner seeks to reduce Illinois' prison population by 25 percent by 2025.
Bob speaks with William Godwin of One Chance Illinois, a coalition of organizations (Including the Catholic Conference of Illinois) advocating the Illinois Kids Campaign, an initiative seeking to improve education in the state. The initiative would allow an income tax credit for corporations and individuals making donations to foundations that grant scholarships to low- and middle-income students to attend private and Catholic schools. It also would increase the individual education expense tax credit from $500 to $750. Dr. Stuart Gitlow, president of the American Society of Addiction Medicine, joins Bob to talk about the slippery slope of medical marijuana. The state has approved a medical marijuana pilot program for 36 medical conditions, but prescriptions have yet to be written since cultivation centers and dispensaries are just getting off the ground. However, an additional 11 medical conditions are under consideration. Fr. Larry Sullivan of Catholic Cemeteries of the Archdiocese of Chicago talks about the unique ministry of charity burials, and the possible loss of state funding for indigent burials in the upcoming fiscal year set to being July 1. Julie Anderson, founder of Communities and Relatives of Illinois Incarcerated Children, joins Bob to talk about the issue of resentencing hearings for juveniles sentenced to life without parole in light of the U.S. Supreme Court's 2012 ruling in Miller v. Alabama, which called such sentences "cruel and unusual punishment." The Illinois legislature is considering House Bill 2471, which calls for courts to consider a juvenile's potential for rehabilitation when imposing a sentence.
Bishop Edward Braxton of Belleville talks about the pastoral letter he issued in January, "The Racial Divide in the United States." Fr. William Grogan, the Archdiocese's vicar for health care, and Patrick Cacchione of the Illinois Catholic Health Association, discuss Illinois Senate Bill 1564, which essentially guts the Illinois Healthcare Right of Conscience Act. Illinois State Rep. Barbara Wheeler (R-Crystal Lake) joins Bob to talk about the House Violence Prevention Task Force and also House Bill 2701, The Ultrasound Opportunity Act. Finally, Illinois Citizens for Life lobbyist Ralph Rivera discusses House Bill 4013, which would allow taxpayer money to pay for the elective abortions in state employees' health insurance plans and the state's Medicaid program