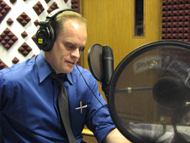 CCI Executive Director Robert Gilligan hosts the Catholic Conference Radio Hour on the third Monday of the month on Relevant Radio. Gilligan discusses current public policy issues affecting the Church with experts and newsmakers.
Dr. Miguel Diaz of Loyola University joins Bob to talk about President Obama's executive action regarding immigration. Dr. Diaz is The John Courtney Murray University Chair in Public Service at Loyola and former U.S. Ambassador to the Holy See, serving from 2009-2012. Next up, Randi Belisomo, a reporter for WGN-TV and CLTV, joins Bob to talk about the importance of having those key discussions with family members about end-of-life decisions. The Catholic Conference is currently updating its statewide advance directive materials, and Randi brings a unique perspective to the issue. She and Dr. Mary Mulcahy founded Life Matters Media more than a year ago as a way to honor her late husband, Chicago journalist Carlos Hernandez Gomez who died in 2010. His battle with colon cancer emphasized the importance of discussing end-of-life care with family members. To wrap up the show, CCI's own Zach Wichmann discusses the first week of the legislature's fall veto session, and what's in store for the second week Dec. 2-4.
CCI Executive Director and host Bob Gilligan welcomes Kim Daniels, former spokeswoman for the president of the U.S. Conference of Catholic Bishops and now a senior adviser at Catholic Voices USA. Daniels attended the just-completed Synod in Rome and offers her perspective. Mary Hallan-FioRito, executive assistant to Cardinal George, offers a look at the accomplishments of Cardinal George as he approaches retirement. Brian Burch of CatholicVote.org joins Bob briefly to talk about his new book, "The American Catholic Almanac." Bob closes out the hour by offering some thoughts on the upcoming Nov. 4 election.
Bob talks with DePaul University political science professor Scott Hibbard about ISIS and religious persecution in Iraq and Syria. Then, Kellie Fiedorek, a lawyer for Alliance Defending Freedom, joins Bob to discuss the probability of the U.S. Supreme Court taking up same-sex marriage this coming term. Thirty-two states have asked the Court to rule on the issue. Finally, CCI's own Marilou Gervacio talks about President Barack Obama's decision to defer any executive action on immigration until after the Nov. 4 election. The U.S. Conference of Catholic Bishops' Committee on Migration earlier this week sent a letter to the administration and the head of the Department of Homeland Security, asking them to use executive action to defer deportations of certain undocumented immigrants.
Host Bob Gilligan leads off the show by talking with Bill O'Keefe of Catholic Relief Services about the agency's efforts to help persecuted Christians in Iraq. University of Notre Dame professors Nicole Garnett and Margaret Brinig then join the program to talk about their new book, "Lost Classroom, Lost Community: Catholic Schools' Importance in Urban America." Journalist and Relevant Radio host Sheila Liaugminas closes out the show by discussing her new book, "Non-Negotiable: Essential Principles of a Just Society and Humane Culture."