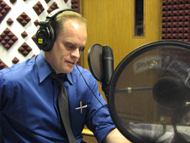 CCI Executive Director Robert Gilligan hosts the Catholic Conference Radio Hour on the third Monday of the month on Relevant Radio. Gilligan discusses current public policy issues affecting the Church with experts and newsmakers.
Host Bob Gilligan looks ahead to the upcoming spring legislative session by tapping the insights of Illinois political writer John O'Connor of the Associated Press. Next, Lucas Swanepoel, vice president of social policy at Catholic Charities USA, gives an update on the funding status of CHIP (Children's Health Insurance Program) as the federal government faces a possible shutdown. Then, Fr. Robert Spitzer, S.J., president and founder of the Magis Center of Reason and Faith, talks about physician-assisted suicide. Finally, Ann Grelecki and Mary Ann Bibat with Catholic Charities of Chicago join Bob to talk about the current state of the Community Care Program, which allows senior citizens to stay in their own homes and avoid nursing homes.
Nate Kellum, chief counsel for the Memphis-based Center for Religious Expression, joins Bob to talk about the amicus brief filed on behalf of 479 creative professionals in support of the Colorado cake baker at the center of a U.S. Supreme Court case that was argued a couple of weeks ago, Masterpiece Cake v. Colorado Civil Rights Commission. Next, Ramona Trevino, keynote speaker for the March for Life Chicago set for Jan. 14, talks about her experience as the manager of a Planned Parenthood abortion-referral facility in Sherman, Texas for three years. In 2011, she resigned her position, citing inspiration from a local Christian radio station and a 40 Days for Life campaign, as well as God's grace. Her resignation resulted in the closure of the clinic. Finally, Luke Niforatos, special assistant for policy at Smart Approaches to Marijuana (SAM), talks about the organization founded by former Rhode Island Congressman Patrick Kennedy and conservative journalist David Frum and the work the organization does in highlighting the negative effects of marijuana. Luke offers a unique perspective, since he lived in Colorado before, during and after that state's recent legalization of marijuana.
Mary Massingale, CCI's director of communications, fills in for the vacationing Bob Gilligan. Dan Lesser from the Sargent Shriver National Center on Poverty Law joins the show to talk about the Congressional tax reform bill passed by House Republicans last week. The U.S. Conference of Catholic Bishops has come out against the measure, called it "deeply flawed" since it will raise taxes on the working poor while giving large tax cuts to the wealthy. Next, Dr. Jim Rigg, superintendent of the Archdiocese of Chicago's Catholic Schools, discusses the upcoming rollout of the Tax Credit Scholarship and his office's outreach efforts. Then, Father Larry Dowling, pastor of St. Agatha Catholic Church in Chicago's North Lawndale neighborhood, talks about The News School sponsored by the parish. The program gives budding high school journalists the opportunity to hone their skills. Finally, Marie Jochum of Catholic Charities of Chicago encourages listeners to get involved with the organization's annual Celebration of Giving, which provides Christmas presents to needy families.
Jak Tichenor, interim director of the Paul Simon Public Policy Institute at Southern Illinois University at Carbondale, joins Bob to talk about the political fallout from Gov. Bruce Rauner's decision to sign into law legislation that authorizes taxpayer-funded abortions after pledging to veto it. Next, Tony Cube with the USCCB's Justice for Immigrants talks about the latest developments on the Deferred Action for Childhood Arrivals (DACA) program. Then, Joyce Duriga, editor of the Chicago Catholic, discusses her new book – "Helen Prejean: Death Row's Nun." Finally, Susan Walker talks about the McHenry County nonprofit organization she founded called Rest in His Arms, which provides funerals and burials for abandoned and deceased infants.