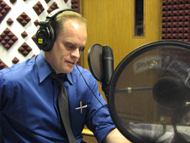 CCI Executive Director Robert Gilligan hosts the Catholic Conference Radio Hour on the third Monday of the month on Relevant Radio. Gilligan discusses current public policy issues affecting the Church with experts and newsmakers.
Archbishop Blase Cupich joins Bob to talk about his general impressions of the political landscape of Illinois, three months after his installation Mass as the new archbishop of Chicago. Then, Fr. Dan Brandt, chaplain to the Chicago Police Department, gives listeners a glimpse into his unique ministry. Sr. Carol Keehan, president and CEO of Catholic Health Association of the United States, talks about the Children's Health Insurance Program (CHIP), and why Congress should reauthorize the program before it expires in September. To close out the show, state Sen. Julie Morrison, D-Deerfield, discusses Senate Bill 43, which aims to post the national human trafficking hotline number at high risk areas, such as bus and train stations, truck stops, and rest areas.
The football season will cap off with this Sunday's Super Bowl, but you may not be aware that such high profile events can act like a magnet for human trafficking. Sr. Rose Mary Meyer of Project Irene joins Bob to discuss the state's efforts to clamp down on this scourge. Ron Jackson of Catholic Charities USA talks about Congressman Paul Ryan's proposal to consolidate federal programs into block grants to the states. Erendira Rendon of The Resurrection Project joins the program to talk about her organization's outreach on President Obama's executive action on immigration. And Sr. Lakshmie Napagoda of the House of Good Shepherd talks about her organization's unique approach to help women with children break the cycle of domestic violence.
Claire Halbur, a parishioner at the Cathedral of St. Raymond in Joliet, joins Bob to talk about her experience on Lifetime channel's "The Sisterhood: Becoming Nuns." The reality show followed Claire and four other young women on their journey of discernment as they visited three convents across the country. Then, Elizabeth Fenner, editor-in-chief of Chicago Magazine, talks about the just-published cover story she wrote on the decreasing number of Catholics in the Archdiocese of Chicago. To close out the show, Bob talks about the upcoming March for Life Chicago on Jan. 18 in downtown Chicago. Emily Zender, march chairwoman and executive director of Illinois Right to Life, tells about the great line-up of speakers, including Archbishop Blase Cupich and pro-life activist Abby Johnson. Mary Hallan Fio-Rito of the Archdiocese of Chicago discusses an Aid for Women brunch that will be held the morning of the march featuring Cardinal George as the key speaker and Father Rocky of Relevant Radio as the celebrant of Mass.
Dr. Miguel Diaz of Loyola University joins Bob to talk about President Obama's executive action regarding immigration. Dr. Diaz is The John Courtney Murray University Chair in Public Service at Loyola and former U.S. Ambassador to the Holy See, serving from 2009-2012. Next up, Randi Belisomo, a reporter for WGN-TV and CLTV, joins Bob to talk about the importance of having those key discussions with family members about end-of-life decisions. The Catholic Conference is currently updating its statewide advance directive materials, and Randi brings a unique perspective to the issue. She and Dr. Mary Mulcahy founded Life Matters Media more than a year ago as a way to honor her late husband, Chicago journalist Carlos Hernandez Gomez who died in 2010. His battle with colon cancer emphasized the importance of discussing end-of-life care with family members. To wrap up the show, CCI's own Zach Wichmann discusses the first week of the legislature's fall veto session, and what's in store for the second week Dec. 2-4.