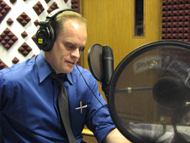 CCI Executive Director Robert Gilligan hosts the Catholic Conference Radio Hour on the third Monday of the month on Relevant Radio. Gilligan discusses current public policy issues affecting the Church with experts and newsmakers.
Bob talks with DePaul University political science professor Scott Hibbard about ISIS and religious persecution in Iraq and Syria. Then, Kellie Fiedorek, a lawyer for Alliance Defending Freedom, joins Bob to discuss the probability of the U.S. Supreme Court taking up same-sex marriage this coming term. Thirty-two states have asked the Court to rule on the issue, Finally, CCI's own Marilou Gervacio talks about President Barack Obama's decision to defer any executive action on immigration until after the Nov. 4 election. The U.S. Conference of Catholic Bishops' Committee on Migration earlier this week sent a letter to the administration and the head of the Department of Homeland Security, asking them to use executive action to defer deportations of certain undocumented immigrants.
Host Bob Gilligan leads off the show by talking with Bill O'Keefe of Catholic Relief Services about the agency's efforts to help persecuted Christians in Iraq. University of Notre Dame professors Nicole Garnett and Margaret Brinig then join the program to talk about their new book, "Lost Classroom, Lost Community: Catholic Schools' Importance in Urban America." Journalist and Relevant Radio host Sheila Liaugminas closes out the show by discussing her new book, "Non-Negotiable: Essential Principles of a Just Society and Humane Culture."
CCI Executive Director Bob Gilligan talks to Pastor Cory Brooks of New Beginnings Church in Chicago, who is seeking to end the gun violence in Chicago through his Project H.O.O.D. program (Helping Others Obtain Destiny) by calling for 5,000 men and women to volunteer to patrol 500 corners in Chicago. Bob also speaks with Dawn Fitzpatrick, new Respect Life director for the Archdiocese of Chicago. He also chats with Ashley Collins of the Archdiocese's Office for Peace & Justice about their #ProjectCST program currently running this summer. Bob finishes up the program by talking with Ashley Feasley of the U.S. Conference of Catholic Bishops Office of Migration about the unaccompanied minors crisis.
Are you ready for the third annual Fortnight for Freedom, set to begin this Saturday? Bishop Paprocki of the diocese of Springfield serves on the Religious Freedom Committee of the U.S Conference of Catholic Bishops, and outlines why the fight for religious freedom goes beyond the federal Department of Human Services' mandate for all employers to offer insurance coverage of abortion-inducing drugs, contraceptives and sterilizations. Jim Geoly, a Chicago lawyer specializing in religious and not-for-profit representation, offers his take on the impending ruling from the U.S. Supreme Court regarding lawsuits from Hobby Lobby and Conestoga Wood Specialties against the HHS mandate. The decision on whether or not businesses can have a conscience is expected to impact the status of similar lawsuits by religious-based and nonprofit employers. To close out the show, Republican state Sen. Matt Murphy discusses the plethora of advisory referenda on the Nov. 4 ballot, including a measure asking if insurance plans should require the coverage of birth control. State law and the Affordable Care Act already require such coverage, leading many to criticize that the ballot question is simply a get-out-the-vote ploy in a gubernatorial election year.