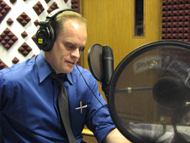 CCI Executive Director Robert Gilligan hosts the Catholic Conference Radio Hour on the third Monday of the month on Relevant Radio. Gilligan discusses current public policy issues affecting the Church with experts and newsmakers.
Recipients of the Supplemental Nutrition Assistance Program — aka food stamps — received a cut in their monthly allotment on Nov. 1, when an extra financial boost from stimulus funding expired. Diane Dougherty, executive director of the Illinois Hunger Coalition, joins Bob to talk about the impact on recipients. Patrick Cacchione, executive director of the Illinois Catholic Health Association, then explains the new Illinois POLST, or Illinois Physician Orders for Life-Sustaining Treatment. Finally, attorney Jim Geoly discusses religious freedom concerns with Senate Bill 10, legislation that redefines marriage that is set to be signed into law by the governor on Wednesday with a June 1 effective date.
Brian Burch of CatholicVote.org joins Bob to talk about the organization's new initiative, CatholicVote365. Next up, Daniel Blomberg of the Becket Fund for Religious Liberty discusses the firm's various cases against the HHS mandate. To close out the show, Kathy Valenti of the Illinois Family Institute reminds listeners of this week's "Defend Marriage Lobby Day," which gives participants the opportunity to urge their state representative to vote "no" on Senate Bill 10.
CCI Executive Director Robert Gilligan is joined today by Bishop David J. Malloy of the Rockford Diocese as he offers insights on the war-torn country of Syria. Bishop Malloy spent a year in Damascus, the capital of Syria, during his time in the Vatican Diplomatic Service. Next, Jim White, an advocacy consultant with the Archdiocese's Office of Immigrant Affairs and Immigration Education, talks about upcoming activities to increase awareness of the need for comprehensive immigration reform, now that Congress has returned from its summer recess. Finally, in a look ahead to October as Respect Life month, Bob welcomes Sue Barrett, executive director of Aid for Women, which runs Heather's House, a home to women during and after their pregnancy. Board member Bill Uliviera also tells of how he became involved with the organization.
It may be summer, but we're not lazing away — CCI's Bob Gilligan tackles three big issues in today's show. First up, Mike Kagan, superintendent of schools for the Rockford diocese and chair of CCI's Education Department, explains that the Common Core State Standards are simply educational goals for students to attain — they are not a curriculum. The six superintendents of Catholic schools across the state last week issued a statement on the Common Core. Next up, Lewis University professor Christie Billups and Fr. Chris Reuter of the Belleville diocese talk about the new Prison Ministry Leadership course they are teaching as past of CCI's statewide prison ministry program. Finally, Steve Colecchi, director of the Office of International Justice and Peace at the U.S. Conference of Catholic Bishops, talks about the civil war in Syria and the recent uprisings in Egypt. On the Feast of the Assumption this month, Cardinal George issued a letter to parishioners asking them to pray for Syria, which has been torn by civil war for the past two years. The United Nations in late July reported the death toll had surpassed 100,000. An astounding 1.8 million Syrians have fled the country, at a rate of 6,000 per day since the beginning of this year. Another 6.8 million residents need urgent humanitarian aid.