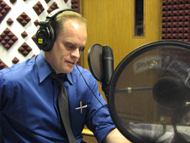 CCI Executive Director Robert Gilligan hosts the Catholic Conference Radio Hour on the third Monday of the month on Relevant Radio. Gilligan discusses current public policy issues affecting the Church with experts and newsmakers.
State Sen. Tim Bivins, R-Dixon, joins Bob to talk about last week's Senate passage of House Bill 40, which allows taxpayer money to pay for elective abortions for Medicaid participants and state employees. Gov. Bruce Rauner has promised to veto the legislation, but Senate leadership is using a procedural move to keep HB 40 in the chamber. Next, Hillary Byrnes, Assistant General Counsel of the U.S. Conference of Catholic Bishops, joins the program to talk about President Donald Trump's recent executive order on religious freedom and what it means for Little Sisters of the Poor and other religious organizations. Then, Sam Tuttle of Heartland Alliance joins Bob to talk about House Bill 3142, which would "ban the box" asking about criminal history on state college admission applications. The question discourages many ex-offenders from completing an application. Studies have found that recidivism rates drop dramatically when ex-inmates further their education. Finally, Sue Barrett, executive director of Aid for Women, a pregnancy resource center in the Chicagoland area, talks about the organization's upcoming fundraisers, including a "A Day at the Races" on Sat., June 10 at Arlington International Racecourse and "Swing for Life" golf tournament on Mon., June 19 at Royal Melbourne Country Club in Long Grove.
Greg Dolan, associate director for public policy for Catholic education for the U.S. Conference of Catholic Bishops, joins Bob to talk about what the Donald Trump administration means for Catholic education. The first school Trump visited as president last month was St. Andrew Catholic School located just outside of Orlando, Florida. Next, Fr. Tom Walsh, pastor of St. Martin de Porres parish located in Chicago's Austin neighborhood, talks about what Cardinal Cupich's new anti-violence initiative will mean to parishes like his. Finally, Kate Kuhn, assistant director of Catholic Charities of Chicago's refugee resettlement program, talks about the program and the need to raise $250,000 by July 1 to continue it.
Sr. Carol Keehan, president and CEO of the Catholic Health Association (CHA), joins Bob to talk about the American Health Care Act, which is the U.S. House GOP's answer to the Affordable Care Act, aka Obamacare. CHA opposes the AHCA, pointing out the Congressional Budget Office notes the proposed legislation would increase the number of uninsured by 24 million by 2026, resulting in a total uninsured population of 52 million in 2026. Next, state Rep. Stephanie Kifowit, D-Aurora, talks about her work on a statewide task force on veterans' suicide, and the recommendations gathered in House Bill 2647. Then, Sue Barrett, executive director of Aid for Women pregnancy resource center in the Chicago area, discusses the uptick in clients since Senate Bill 1564 went into effect on Jan. 1. Aid for Women, The Pregnancy Care Center of Rockford, and Dr. Anthony Caruso in December won a temporary injunction against implementing SB 1564. Donate to Aid for Women here. Finally, Alexandra Fedosenko, Respect Life coordinator for the Joliet diocese, encourages listeners to attend a "Life Advocacy Day" on March 29 or April 5 in Springfield to lobby House lawmakers against House Bill 40. The legislation eliminates the current ban on using taxpayer money for elective abortions in the Medicaid program and state workers' health insurance plans.
Cardinal Blase Cupich joins Bob for the first half-hour of the show to talk about the need to defeat Illinois House Bill 40, which allows your taxpayer money to pay for elective abortions for women in the Medicaid program and the state's employee health insurance plans. Cardinal Cupich also discusses the important role immigrants play in our society, in light of President Donald Trump's recent executive orders on immigration enforcement. Then, state Rep. David Harris, R-Mount Prospect, talks about the Earned Income Tax Credit and its help for the working poor, as he seeks to fine-tune the program with House Bill 630. Finally, state Rep. Jerry Costello II, D-Red Bud, discusses his efforts to recognize God in everyday life by allowing residents to purchase "In God We Trust" decals for their license plates with House Bill 2884. Proceeds from the stickers would go to veterans' programs.